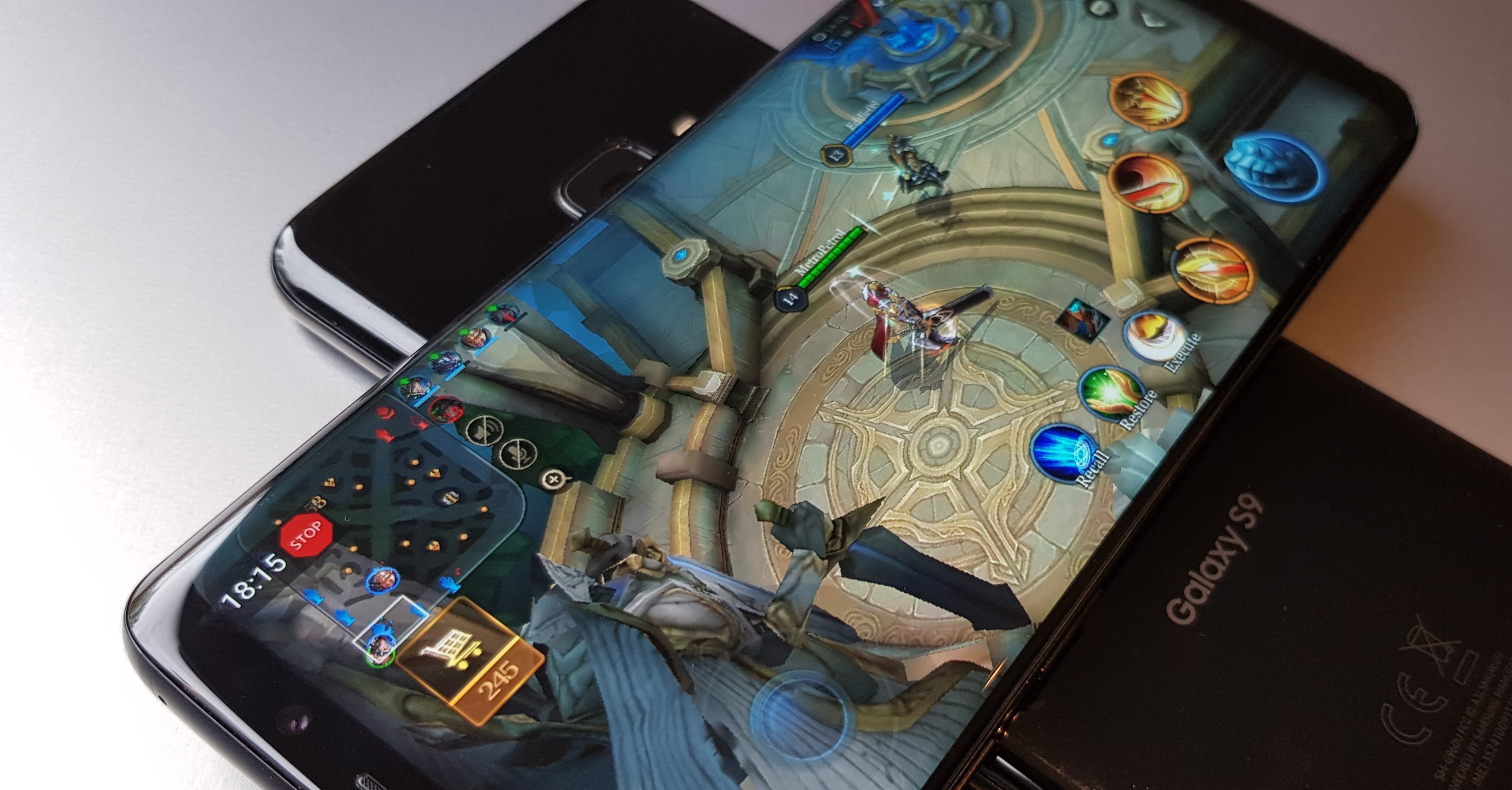 Common sense tells us that this should be a match made in heaven: One of the world's most popular and profitable mobile games, Arena of Valor, running on one of the world's most popular and powerful smartphones, the Samsung Galaxy S9. But rather than rely on common sense, we prefer objective data. How well does this pairing of app and device perform in reality? How power efficient is it? And is the gaming experience an upgrade over the Galaxy S8 or iPhone X? We used the GameBench Android app (available for free from the Play Store) to find out...
Note: If you'd like to be notified when new GameBench ratings and ratings-related article are published, please sign-up to receive alerts.
Graphical fluidity (aka frame rate)
Our first test results weren't very encouraging. We found that Arena of Valor runs at a reduced frame rate of 30 frames per second (fps) on the GS9 when you stick to default settings (as most players probably do). Arena's developer, Tencent, recently removed the 30fps cap on the iPhone X, causing the game to run at a silky 60fps without any meddling in settings menus. But this hasn't happened on the GS9, which plays Arena of Valor at half the smoothness that the device's display is physically capable of, just like on every other Android device we've tested.
| | | | | |
| --- | --- | --- | --- | --- |
| Spec / Device | GS9 EU (G960F) | GS9 US (G960U) | GS8 US (G950U) | iPhone X |
| Chipset | Samsung Exynos 9810 Octa | Qualcomm Snapdragon 845 | Qualcomm Snapdragon 835 | Apple A11 Bionic |
| Display | 5.8-inch, 1440 x 2960 | 5.8-inch, 1440 x 2960 | 5.8-inch, 1440 x 2960 | 5.8-inch, 1125 x 2436 |
| Battery | 3000mAh | 3000mAh | 3000mAh | 2716mAh |
This means that if you're coming over to Arena of Valor from the iPhone X version of the game, or from a highly-optimised 60fps MOBA like Vainglory, or from a PC MOBA like DOTA2, the GS9's rendering is going to feel like a downgrade rather than an upgrade -- less fluid, less responsive and frankly a bit cartoony. On other hand, if you're new to MOBAs and haven't experienced anything else, then you will at least find that the GS9's handling of Arena of Valor is smooth and consistent enough to be playable, with no sustained frame rate drops below 30fps. This is sufficient to achieve our "Smooth" rating, which is the same rating we gave to Arena on the GS8 and one badge below the "Ultra" rating we've given to the iPhone X.

Now, it's possible to go into the settings menu and unlock a higher frame rate, but we'll get to that in a bit. First let's look at graphical quality.
Image quality
Our image quality comparisons yielded further disappointing results. By default, the GS9 plays Arena of Valor at a reduced resolution that is far below what the screen is capable of, producing image quality that is identical to what we've previously observed on the GS8. Tencent probably selected this reduced default in order to minimize lag and battery drain, but it's also possible that they just haven't spent resources on optimising the game for a brand new device like the GS9. You can see the result below, compared to default settings on the iPhone X: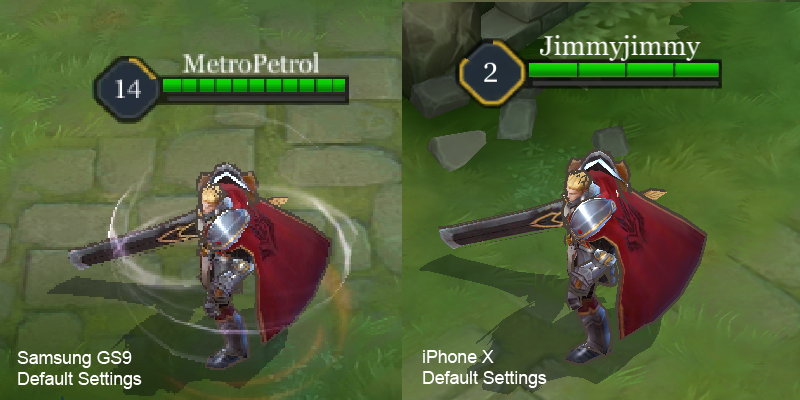 Max Settings
The GameBench testing methodology, used for all badges published on our public ratings table, requires a game to be tested on default settings. This is important, because it puts the onus on the studio rather than the player to ensure that graphics settings are well-suited to whatever device the player owns. However, Tencent doesn't force players to stick with its defaults -- you can simply go into the settings menu to dial up the graphical quality. We decided to turn everything up to max (including both frame rate and image quality) in order to make a more apples-to-apples comparison with the iPhone X, even though our methodology prevents us from publishing these particular results on the ratings table. Making this change to the settings immediately boosted image quality to the point where it matched the iPhone X experience: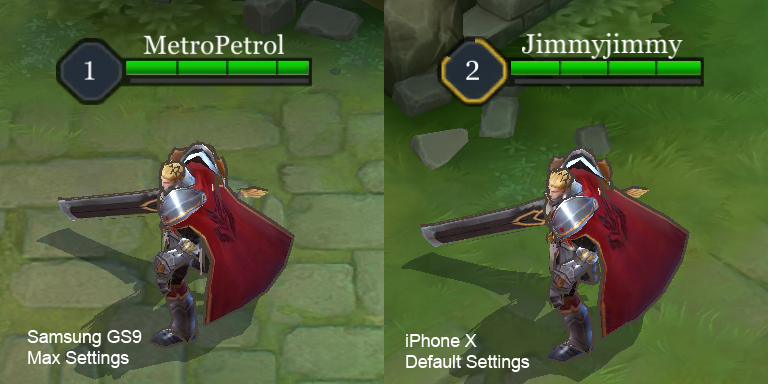 The problem is that boosting the settings to max also had an impact on frame rate. The frame rate increased, as we'd hoped, but it also became much less stable. The degree of instability seems to depend on lots of different variables. Out of six battles of varying lengths (between 15 minutes and 25 minutes), only one battle ran at a solid 60fps. All the others showed serious frame drops below 40fps. The European version of the GS9 was generally more stable than the US version, but we experienced severe drops on both variants of the device and we're inclined to the think that much of the problem stems from Tencent's software or server optimisation, rather than from the GS9's hardware. For example, it's possible that Tencent infrastructure can't deliver 60fps to one player when other players in the battle have connectivity issues. (For our own tests, we always ensured we had excellent ping times, and we maintained the same WiFi testing environment across all sessions.)
Battery Life
Note: If you'd like to be notified when GameBench performance and battery ratings are published for new games and devices, please sign-up to receive alerts.
Finally, we can offer a bit of good news to MOBA fans who are looking to upgrade to the GS9. Both the US and EU variants of this phone delivered more than five hours when playing Arena of Valor on default settings (i.e. low-res, 30fps), achieving our top battery rating. The EU version was marginally more power efficient on these settings, but the gap was small (6 percent) and both variants were efficient enough to get our top battery rating.
Neither variant was quite able to match our historical battery rating for the GS8, however it's important to clarify that this was captured with a slightly older version of Arena of Valor and revisions to the game might have made it more power-hungry since then -- we're working on fresh tests to find out.
Meanwhile, both variants of the GS9 beat the iPhone X for longevity. A long-standing Apple bug makes it difficult to measure iPhone X power consumption precisely (which is why there is no official GameBench battery badge for this device in our ratings table), but we've estimated it at five hours based on observing battery depletion while the game is played -- that's around 20 percent less gameplay time than you can expect from the GS9. Both variants of the GS9 are also way ahead of older devices that you can find in our ratings table, including the GS7. That older Samsung phone could barely eek out three hours of gameplay on a charge, so this adds up to a pretty strong reason to upgrade.
App / Device
GS9 EU (G960F)
GS9 US (G960U)
GS8 US (G950U)*
iPhone X**
Arena of Valor

- Default Graphics

6.2 hours (484mA)
5.8 hours (514mA)
7.2 hours (415mA)
5 hours (543mA)**
Arena of Valor - Max Graphics
4.8 hours (630mA)
5.1 hours (590mA)
5.2 hours (576mA)
N/A
*These results were tested in late 2017, with a slightly older version of Arena of Valor.

**This iPhone X mA reading is an estimate based on observed battery depletion of 20 percent per hour.
On max settings (high-res, uncapped frame rate), the US variant of the GS9 still achieved over five hours of gameplay, which is an excellent result. The EU version used up a bit more energy, causing its gameplay time to fall slightly to 4.75 hours -- however, as noted already, it produced more stable frame rates in return for this higher power consumption.
Wrap-up
Overall, our test results show that Arena of Valor players who upgrade to the GS9 won't see any improvement over the GS8 in terms of either performance or battery life. They'll also have to come to terms with the fact that the iPhone X still delivers superior frame rates at the same time as superior graphical quality. The evidence indicates that this situation has more to do with poor optimisation of Arena of Valor on Android in general, reflected in its blunt 30fps frame rate cap and lack of device-sensitive defaults, rather than with the GS9's inherent capabilities. We'll shortly publish some Vainglory results which we think will support this view, showing the the GS9 is capable of playing high-fidelity 60fps MOBAs at max settings -- just not Arena of Valor.
On the other hand, if an AoV player is currently using an older device like the GS7, OnePlus 3T or LG G5, then splashing out on a GS9 (whether the US or EU variant) will certainly deliver a very noticeable boost to battery life, allowing you to play nearly twice as many battles on a charge -- making it easy to recommend as an upgrade.
In our next article, we'll look at what the GS9 means for Vainglory players. If you'd like to get notified as soon as this is ready, please subscribe to receive GameBench ratings alerts. Or, if you'd like to download GameBench and get your own test results, please register to download our software for free.