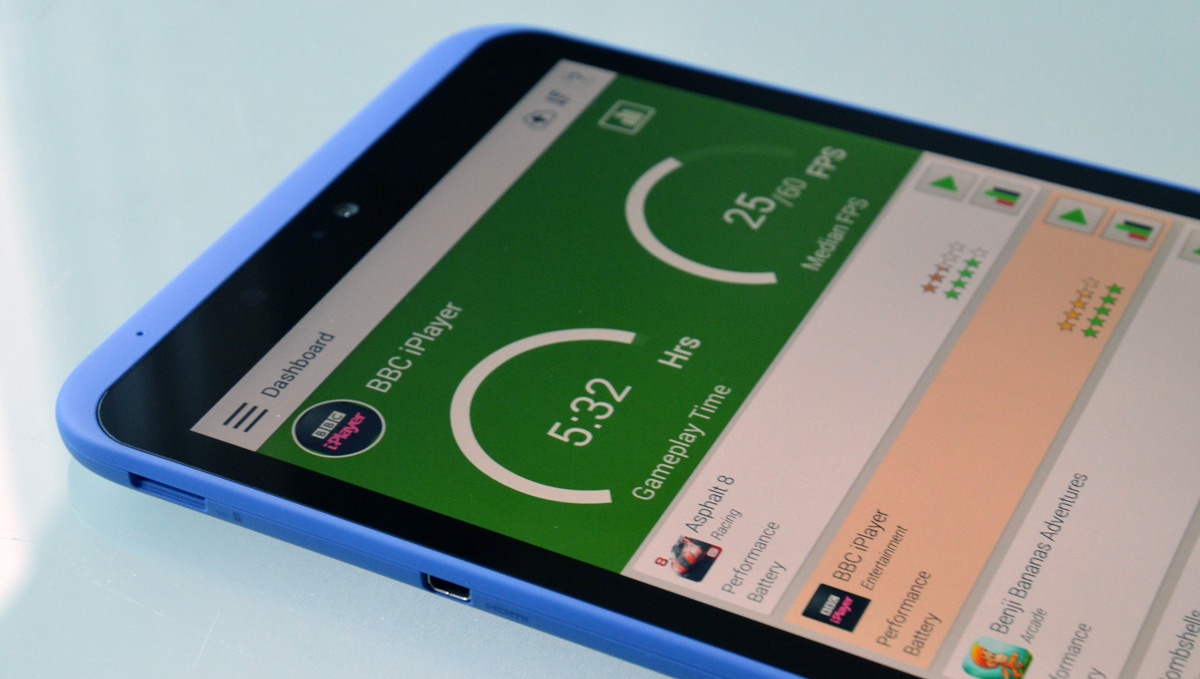 If you ever shop at Tesco's in the UK, then you'll surely have noticed the in-store promotions for the supermarket's latest own-brand tablet, the Hudl 2.
What you might not have noticed, however, is that the £129 ($195) Hudl 2 runs on an Intel mobile processor, from a family of chips that has historically suffered from bad battery life and optimisation issues on Android devices — something GameBench demonstrated back in early 2014.
Fortunately, the Intel Bay Trail chip inside the Hudl 2 represents a fresh generation of technology, versus the old Clover Trail devices we tested previously. What's more, the Android operating system has also evolved to become friendlier to non-ARM silicon. So it's about time we put the Hudl 2 to the test with GameBench, to see if it's ready to be taken seriously as a power-efficient, gaming-ready Android tablet.
Video streaming
One of the Hudl 2's big selling points is its 8.3-inch 1080p LCD display, which pairs nicely with Tesco's own streaming service, Blinkbox, as well as with the wealth of other streaming services in the UK — the most popular of which is surely BBC iPlayer.
GameBench lets us test the Hudl 2's stamina while running iPlayer — a task that doesn't really tax the tablet's compute capability, but which does tax the display and battery, giving us an overall idea of the device's efficiency while performing a simple, common task.
| | | | |
| --- | --- | --- | --- |
| Device | Frame rate (FPS) | Frame rate stability (%) | Battery life |
| Samsung Galaxy Note 3 | 25 | 99 | 9:29 |
| Sony Xperia Tablet Z2 | 25 | 97 | 7:09 |
| Samsung Galaxy Note 8 | 25 | 98 | 6:59 |
| Google Nexus 9 | 24 | 88 | 6:04 |
| Tesco Hudl 2 | 25 | 99 | 5:35 |
| TCL Idol X+ | 25 | 74 | 4:59 |
On average, we find that the Hudl 2 falls short of some ARM-powered tablets in the same category. It can stream iPlayer video for 5.5 hours on a charge, which compares badly to the 7 hours offered by the Samsung Galaxy Note 8.0, for example — a slightly older tablet which can be had for £40 more than the Hudl 2.
Then again, the Nexus 9 can only stream iPlayer content for 6 hours before dying, despite the fact that its larger than the Hudl 2, three times more expensive, and contains one of the biggest and baddest ARM-based chips, NVIDIA's Tegra K1. What's more, we encountered some strange, periodic frame-rate drops on the Nexus 9 using iPlayer app, whereas the Hudl 2 played back video very smoothly, so we shouldn't be too harsh on the Hudl 2, either.
Video rating: Below Average
Basic 2D gaming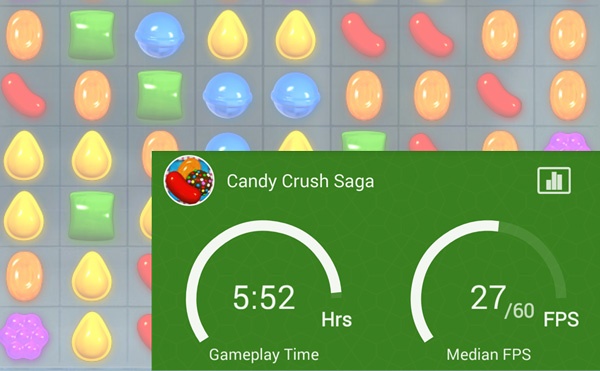 Let's take the stakes up a notch by testing one of the most addictive and popular games in the Google Play Store: Candy Crush Saga. This game has been carefully designed to run smoothly on as many different Android devices as possible, but does this optimisation extend to devices that run on rarer Intel silicon?
Well, yes and no. On the one hand, we get surprisingly bad frame rates from the Hudl 2. It runs Candy Crush at a median average of just 27 fps, while the majority of devices in our database play the game at 57-60fps. It's possible that the developer, King, has conservatively capped the frame rate at 30fps on the Hudl 2 for some reason, but even so, this can't explain why the frame rate often drops as low as 20fps or even 14fps.
In any case, the lower frame rate doesn't really hurt this particular title, and the Hudl 2 partly makes up for it with good battery life — running for a total of 5.5 hours. This means the tablet can play Candy Crush Saga for just as long as it can stream video. By comparison, the Galaxy Note 8.0 can only play the game for 3.5 hours.
When we add in the fact that Hudl can play many simpler games, like Benji Bananas, at a stable 60fps, we arrive at an "Average" rating for basic 2D gaming.
Basic 2D gaming rating: Average
Complex 2D gaming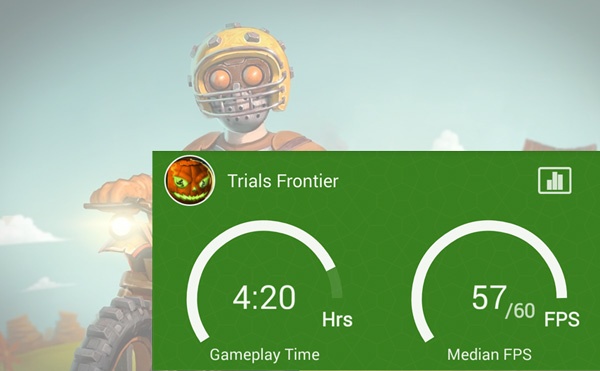 The trail-biking game Trials Frontier should probably be classed as a 3D rather than a 2D title. But the game is played solely on the 2D axis, emphasising the graphic engine's amazing physics simulations rather than its ability create 3D polygons. Either way, the Hudl 2 handles this game with resources to spare: it delivers 57fps with 4.3 hours of gameplay on a charge.
Most devices in our database fall short of this score, either on frame rate or battery life. For context, the only device in our database that beats the Hudl 2 at Trials Frontier is the Samsung Galaxy Tab Pro 8.4, which can deliver up to 5.5 hours of gameplay but which also costs a lot more than a Hudl 2.
The same pattern applies to Hearthstone. This 2D card game that is full to the brim with animations and poorly optimised code, to the point where it can appear shaky on even the most premium devices. The Hudl 2 plays this game at 22fps with 3.5 hours of battery life.
Hearthstone performance

| | | | |
| --- | --- | --- | --- |
| Device | Frame rate (fps) | Frame rate stability (%) | Battery life (hrs:mins) |
| NVIDIA Shield Tablet | 29 | 89 | 3:07 |
| Samsung Galaxy Tab Pro 8.4 | 27 | 89 | 4:29 |
| Samsung Galaxy Note 8.0 | 25 | 44 | 3:34 |
| Samsung Galaxy S4 LTE | 23 | 33 | 2:46 |
| Tesco Hudl 2 | 22 | 80 | 3:10 |
| Google Nexus 7 | 19 | 49 | 3:50 |
| Google Nexus 4 | 6 | 28 | 5:28 |
By comparison, the mighty Shield tablet plays Hearthstone at the highest frame rate of any device in our database, 29fps, but it only provides 3.1 hours of battery life. The Galaxy Tab Pro 8.4 delivers a more balanced experience, with 27fps and 4.5 hours. But the Nexus 4, Nexus 5 and Nexus 7 all fall far short on frame rates, maxing out at just 19fps — all of which pushes us to regard the Hudl 2 as above average.
Complex 2D gaming rating: Above Average
3D gaming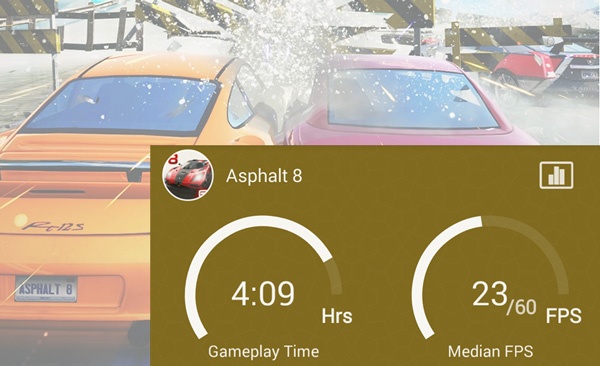 This is where we expected the Hudl 2 to fall down — and to some extent it did, but on the whole it still delivered surprisingly playable experiences on every game we tested.
Asphalt 8 is the most popular test game among GameBench users, providing plenty of data for comparison, and it puts the Hudl 2 far below average for frame rate, with just 23fps when the game is played at medium settings. The Note 8.0, by comparison, can play the game at 52fps. The Hudl 2's battery life was about average at 4.15 hours— matching the Nexus 9 and far ahead of the Note 8.0, which really has to work hard at this game and only lasts for 2.9 hours.
Playing Grand Theft Auto: San Andreas at max settings, the Hudl 2 again delivered a bearable 23fps with 4.3 hours of battery life. This compares to 29fps and 3.9 hours from the Nexus 9. Real Boxing, meanwhile, lasted for just under four hours at a respectable 34 fps — only a smidgen behind what you'd get from the Shield Tablet (35fps, 4.5 hours).
Overall, we're forced to class the device as slightly below average, with much of the disadvantage stemming from that poor frame rate in Asphalt 8.
3D gaming rating: Below Average
Wrap-up
The Hudl 2 is no hero when it comes to video and gaming performance, but it's no villain either. We've ended up with two "below average" ratings, one "above average" rating, and one "average" rating. This really isn't bad considering that this device costs so little, and that we've stacked it up against some of the most premium devices in the Android ecosystem (not least the Nexus 9).
The tablet is surely being held back by its budget specs, but it isn't being unduly held back by its processor. This leads us to conclude that the Bay Trail chip inside this tablet is far and way superior to Intel's previous generations of Android-focused chips. We certainly wouldn't buy a smartphone or tablet because it had Intel inside — even if it happened to be one of the new 64-bit processors shown off at CES. But we wouldn't reject a tablet for this reason either.
In summary, Intel has progressed from being a drawback in a mobile device to being a neutral factor. As to whether the "Intel Inside" logo will ever become a true selling point, like it long has been in the PC market, we have no idea — but at Intel's rate of progress, we wouldn't be at all surprised.