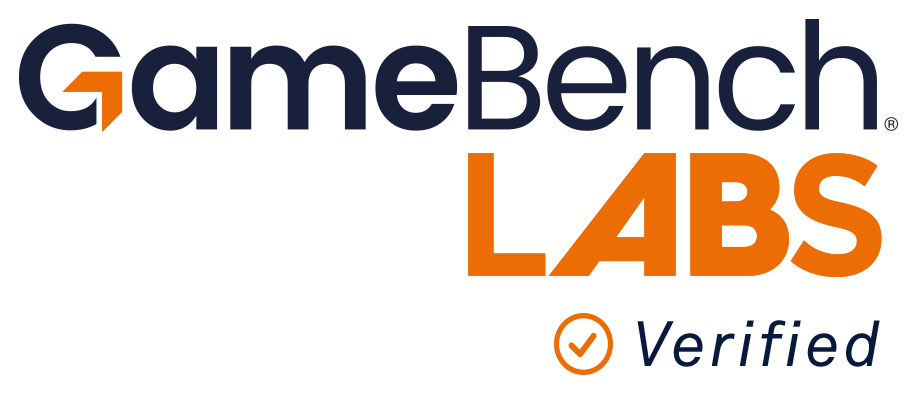 Now that mobile gaming has become truly mainstream, it's only right that high-quality gaming experiences should be possible on affordable, mainstream smartphones. But are they? This is a question we've just had a chance to explore, thanks to realme sending its latest 3 Pro handset to GameBench Labs and commissioning us to test it out across a range of games. Please read on to see how the realme 3 Pro fares against other phones in the same class, including the Samsung Galaxy M30, Redmi Note 7 and Redmi Note 7 Pro.
Game and Device Selection
The 3 Pro has just launched in India at the $200 mark, so realme asked us to test it against three rival devices that currently dominate this market segment: Xiaomi's Redmi Note 7 in both the Pro and non-Pro variants, and the Samsung Galaxy M30. It's important to note that the realme 3 Pro is the only device in our test to contain Qualcomm's new, higher-spec Snapdragon 710 chipset. According to realme, there are no other Snapdragon 710 devices available in India at this price point.
Meanwhile, it was us here at GameBench Labs who picked the games to test. We wanted to try out a range of competitive genres, of course including two of the top battle royale games, Tencent's PUBG Mobile and NetEase's Rules of Survival. We also wanted to test the world's most popular mobile MOBA, Arena of Valor (also from Tencent, and known as Honor of Kings in China). Finally, we threw in Gameloft's Asphalt 9 as our wildcard, based purely on the fact that it's a really punishing game even at default settings and one that is therefore regularly chosen as a benchmark by GameBench users.
As always, we need to make a couple of disclaimers: Firstly, our results measure real gamers engaging in real gameplay. Although our test methodology is designed to ensure the maximum possible consistency across tests, for example by testing the same game levels with the device and game settings, there's always some scope for natural variation, because these are not synthetic benchmarks.
Secondly, realme supplied us with a 3 Pro handset directly, before it was available on the open market, so there is always a chance that an off-shelf device could behave differently due to hardware or software changes.
With that out of the way, let's check out the results...
GameBench Labs Ratings
The quickest way to provide a snapshot of our results is with our ratings badges. Expressing our results this way, it's clear that the realme 3 Pro offers class-leading performance, as it was the only one of the four devices to achieve a Smooth badge across all four games:
| | | | | |
| --- | --- | --- | --- | --- |
| | realme 3 Pro | Samsung Galaxy M30 | Redmi Note 7 | Redmi Note 7 Pro |
| Arena of Valor | | | | |
| Asphalt 9 | | | | |
| PUBG Mobile | | | | |
| Rules of Survival | | | | |

In case you're not familiar with our ratings, here's a quick explainer:
Smooth (green) represents gameplay that sticks closely to the established threshold of 30fps smooth gaming animation, with a median of at least 29 frames per second (fps) and with no sustained frame rate drops below 27fp (or, more specifically, no more than nine missed frames of animation within any three-second segment of gameplay) ;
Basic (yellow) represents gameplay that sticks to 20fps or higher, with no sustained drops below 18fps;
Poor (red) represents everything worse than the above;
(We also have a blue Ultra badge, representing 60fps gameplay -- specifically, a median of at least 58fps and no drops below 54fps, whether momentary or sustained -- but none of these mid-tier devices were quite able to achieve that in any of the four games we tested.)
Arena of Valor
This game provides a useful starting point and baseline for our tests, because tens of millions of gamers around the world depend on its smooth performance in order to be competitive. It's not a particularly heavy workload on the latest mobile hardware, being able to run at close to 60fps on a wide range of devices, so this test is more about spotting unexpected optimisation problems, such as CPU throttling due to overheating during prolonged battles.
In our realme 3 Pro tests, we found no nasty surprises. In fact, all of our test devices got a Smooth rating. The lowest-specced device, the Redmi Note 7, comes top of the chart, but only due to a 2fps difference in minimum frame rate that probably wouldn't matter much (if at all) to a mainstream gamer. In terms of real-world experience, we'd say that all the Snapdragon-based devices were equal on this game. The Exynos-based Samsung device showed a few noticeable stutters, and interestingly also showed resolution downscaling to 720p, but it was still well within the threshold of our Smooth rating.
It's worth noting that none of the devices were able to get an Ultra badge, because they all showed momentary drops (i.e. missed frames within a single second) below 54fps. This takes them outside of our eSports-grade rating threshold. The realme 3 Pro actually skipped the least number of frames during these momentary bottlenecks -- it missed only eight frames of animation within a single second, while the other devices missed ten or more frames (and the Samsung Galaxy M30 missed 16 frames, resulting in more noticeable stutters). But again, none of these differences were big enough to affect our ratings.
Asphalt 9
Asphalt 9 is a sort of gaming opposite to Arena of Valor. Whereas Arena is a relatively light workload that is played over long, strategic battles of up to half-an-hour, Asphalt 9 consists of extremely graphically intensive, reflex-driven races often lasting less than a minute. Our crowdsourced database shows that many, many devices struggle with this game, barely being able to run it 30fps. However, the realme 3 Pro surprised us by being able to do just that -- while none of the other three devices could.
We did encounter one surprise in our Asphalt 9 tests, and once again it was with the Redmi Note 7 -- the lowest-spec device on test. This phone couldn't keep up with the realme 3 Pro, but it did beat its higher-specced sibling, the Redmi Note 7 Pro, which contains a supposedly more powerful Snapdragon 675 chipset (versus a Snapdragon 660 in the non-Pro Note 7). However, the explanation for this probably lies in the fact that the Note 7 plays Asphalt 9 at a much lower resolution than the other devices, with noticeable down-scaling to just 427 vertical pixels, rather than 656px on the other devices. The visual impact of this difference is shown in the screenshot comparison below: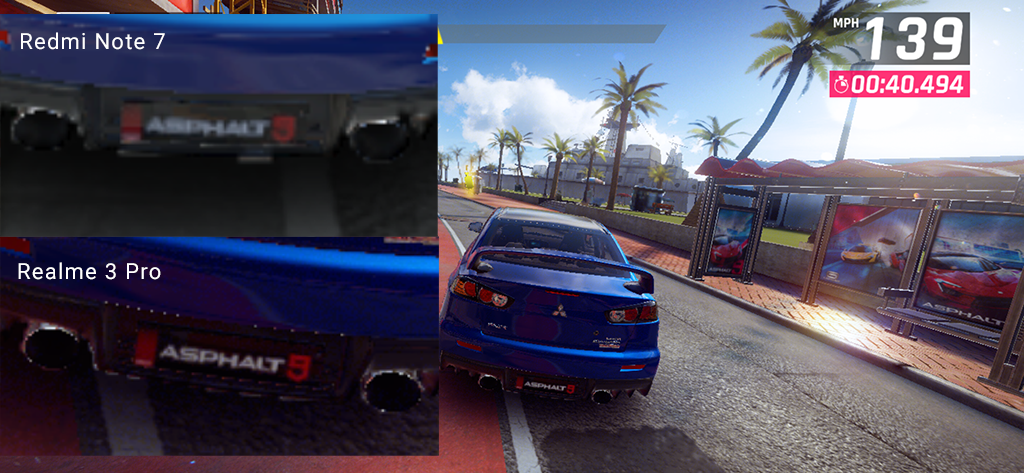 PUBG Mobile
Third-person battle royale games like PUBG are really taxing workloads, combining prolonged, CPU-wearing battle durations alongside chaotic, GPU-intensive gun battles in which dropped frames can really hurt your chances of survival. On all devices, we dialled graphical quality right down to the lowest setting (including turning off anti-aliasing) in order to unlock the highest possible frame rates. Once this was done, the realme 3 Pro and Redmi Note 7 Pro were pretty much neck-and-neck: both were capped at 40fps and were able to deliver this with only minor sustained drops. Meanwhile, the Samsung Galaxy M30 and Redmi Note 7 were left behind with unstable performances capped at 30fps, with many sustained drops far below that level.
One thing of note with this game: we found an optimisation issue affecting all the devices, in which rapidly driving vehicles over large areas of terrain caused numerous dropped frames. On the realme Pro 3 and Redmi Note 7 Pro, these drops were only momentary (contained within one second), but the other devices produced more prolonged freezes that could hurt vehicle-based combat. Hopefully, this issue can be addressed by Tencent and OEMs, for the benefit of all PUBG players using mid-tier devices.
Rules of Survival
For our final test, we picked NetEase's excellent competitor to PUBG: another battle royale game called Rules of Survival. We like to use this game as a benchmark because, unlike PUBG's creator, NetEase makes it easy for the gamer to remove all developer-implemented frame rate caps, allowing devices to deliver whatever degree of fluidity that they're capable of. Removing the FPS caps and dialling the quality settings up to max, we found that the realme Pro 3 had a significant advantage in terms of both median and minimum frame rate in Rules of Survival, resulting in it being the only device deserving of our Smooth rating for this game:
Wrap-up
Compared to the other $200 devices in our benchmarks, the realme 3 Pro emerges as the class-leader for gaming performance. It's the most consistently smooth performer across the range of genres that we tested, based on the widely accepted 30fps threshold for good playability. This is shown not only in the aggregated chart below, but also -- and perhaps more meaningfully -- in our GameBench Labs ratings, which give the realme 3 Pro a "Smooth" badge in all four games.
We cannot say for sure what's causing the realme 3 Pro's performance advantage, but the upgraded Snapdragon 710 chipset with its Adreno 616 GPU is a likely contributor. Clearly, it doesn't hurt to have the latest 10-nanometer silicon in such an affordable phone, especially because it reduces the likelihood of performance throttling due to overheating. Realme also tells us that there are gaming optimisations built into the 3 Pro's ColorOS (the operating system it shares with Oppo devices), so this might also have had an impact. (Note: we tested all devices in their respective gaming modes, which on the 3 Pro is accessed through the Game Space utility.)
We also cannot say for sure that every game will run smoothly on the realme 3 Pro -- it will take time to collect more data about more titles, including crowdsourced data. Nevertheless, we did do some quick checks of other famous games, including Moonton's Mobile Legends, Supercell's Brawl Stars, Gameloft's Modern Combat 5 and Super Evil Megacorp's Vainglory, and we saw Smooth-grade performance in those titles too -- something that certainly cannot be said for all mid-tier devices.
If you'd like to test more games for yourself, so that we can share your results with the gaming community, please feel free to download the community edition of the GameBench app. It's easy to use (registration and one-time PC tether required), costs nothing, and helps you to reveal which games (and game settings) will make the most of any of iOS or Android device.